"Plans are written in sand at low tide" is a well-known expression amongst sailors. But what does it mean? Well, it's about remaining flexible as plans will change. And if there's one thing we've learned during this sailing life, it's that plans can change for many unexpected reasons. Sailing plans are fragile, easily broken by multiple factors. Maybe it'll be Mother Nature that forces a rethink, perhaps boat problems, or myriad other possibilities, some good, some bad. We might as well write our plans in the sand, only for the next tide to come along and wash them away.
I learned this lesson the hard way. Through my 20s and 30s, I loved having a diary full of plans. Visiting friends or family, scuba diving, cycling, hiking, or trying something new during my free time. Don't get me wrong, as I mostly enjoyed my job, but my philosophy was that I worked to live. As well as the activities themselves, I enjoyed the planning part too, pouring over maps or reading travel books.
I Struggled to Adapt to Unexpected Changes in Plans
So, when we started this sailing life, I admit that I struggled to adapt to the required flexibility. For me, traveling by sailboat was much more about the destination than the journey. I enjoyed studying our proposed route; researching things to do and places to see along the way and learning a little about the areas we'd be passing through.
Occasionally, I would get very excited about a place or activity on our proposed path. So, imagine the disappointment when the weather meant that we had to skip that place.
What Can Scupper A Sailing Plan?
The main destroyer of our plans has been the weather. Forecasts are just that – a forecast, not reality. The models do their best and have improved greatly over the years in their reliability, but Mother Nature is anything but predictable. We've often set off from places with a reasonable forecast, only to find conditions are not at all as expected. For example, whilst on a short trip from Agathonisi to Samos in Greece, we experienced 40kt of wind on the nose. The forecast had been for about 15kts.
At other times it's been the swell that has surprised us. Either hanging along longer than expected after a big blow or creeping its way unexpectedly around a headland. Whilst in France, friends gave us some great advice about Villefranche-sur-Mer, part of which was to watch out for the swell. However, after four days, swell free, we were beginning to think we'd got away with it.
Then, just as we were settling down for a Friday 5 pm cocktail in the cockpit, Emerald began to do an impression of a nodding dog. We told ourselves it would ease off into the evening as there was no wind to drive it. However, this swell had formed many miles away from the wind blowing out of the Golfe du Lion. The quirks of geography had brought the swell to us, long after the wind had eased. We endued it for two days, before running away to a more sheltered spot.
Help, We're Sinking!
As well as the weather – unexpected boat problems have also disrupted our plans. In Croatia for example, an issue with the engine raw water intake led to our propeller shaft overheating. The heat melted the rubber in the cutlass bearings, which ended up stuck to the faces of our shaft seal. The seal works by turning a polished metal face against a carbon face, both so smooth that water can't get in between them. But, the rubber debris created ridges and we began taking on water, at the rate of about 15 liters an hour.
We had to quickly find a boatyard that could lift us out in our immediate area – not easy on a budget in Croatia. Friends suggested a nearby yard which turned out to fit our requirements. We completed the necessary work and took the opportunity to refresh Emerald's antifouling. However, it took up nearly three weeks of our 3 months in Croatia. The result was that we couldn't sail as far north as we would have liked.
Plans Can Sometimes Change for the Good
There have also been occasions when a change of plans works out for the best. We only got to visit Stornoway in the Outer Hebrides due to prolonged northerly winds blowing down The Minch. The only way for us to make progress was to cross from one side to the other.
Or when bad weather forced us into going into Flensburg in Germany. There just happened to be a sailing barge and rum festival that weekend.
On other occasions, delays have meant crossing paths with people we might not otherwise have met, such as when we got stuck in Muros on the north Spanish coast.
Along Comes A New Plan Wrecker – Covid-19
We'd originally planned to spend much of 2020 in a boatyard. As well as the general maintenance jobs, we planned to repaint Emerald's topsides and give her a Coppercoat bottom. We also built in time for much needed visits home with perhaps some land travel too.
Then Covid came along and we made new plans, delaying the yard time and sailing to the Balearics. At the end of the summer, we delayed the yard again and spent the winter in the Rio Guadiana. So, we got to have another summer sailing adventure and to try out spending a winter at anchor.
Covid Forced Me to Relax
The restrictions in travel have since allowed me to see that there's plenty of positives to a slower pace of life, free of time commitments. But there came a point when we had to begin thinking ahead. Emerald's maintenance jobs still needed doing and it's been far too long since we saw our families.
So, we now have a booking for a boatyard in Faro. This kills two birds: Emerald gets the love and attention she needs and we also have a safe place to keep her whilst we travel. Marina prices in the Algarve, high in the winter and outrageous in the summer, are far beyond our small budget. An example: one week in a marina in July costs the same as a month in the yard. It's also conveniently close to an airport. With the yard time arranged, I booked a flight to England.
A Plan to Leave the River
Having reviewed the tide times, we made a plan to leave the river on a Wednesday morning. We'd have time to treat ourselves to 2 nights in Ayamonte marina. So, with a departure date set, we arranged some farewell gatherings. But when we learned the marina prices had risen to their summer rates, we scrapped that plan for a few nights on the river pontoon instead, to finish Emerald's post-winter scrub down. Our departure was postponed by one day, which meant we could squeeze in another farewell party.
Having completed all our boat jobs, we went for a walk on Wednesday afternoon. Whilst out, the phone rang. It was the health clinic, offering Colin an appointment for his vaccine on Friday afternoon. Of course, we couldn't turn it down, so we pushed our departure out for another couple of days. Time for another leaving party!
Bad News Follows
However, after that good news, the next day came disappointment. The UK was removing Portugal from the green travel list. This meant I would need extra testing on my return and 10 days quarantine. Plans were once again in doubt. Would my flight be cancelled? So much uncertainty and disappointment is not good for the soul.
Then, on Friday whilst I was waiting with Colin to have his jab, the medical staff called me over. They offered me an vaccine appointment for the following Thursday. Too good to turn down, we made a quick decision – yes! We were lucky with the tides: Thursday evening we could ride the falling tide downriver. It would mean an early start on Friday, but we could again take the outgoing tide to leave the river and be entering Faro with the rising tide. We would prefer some slack in the plan, but we should have just enough time to make our lift-out appointment.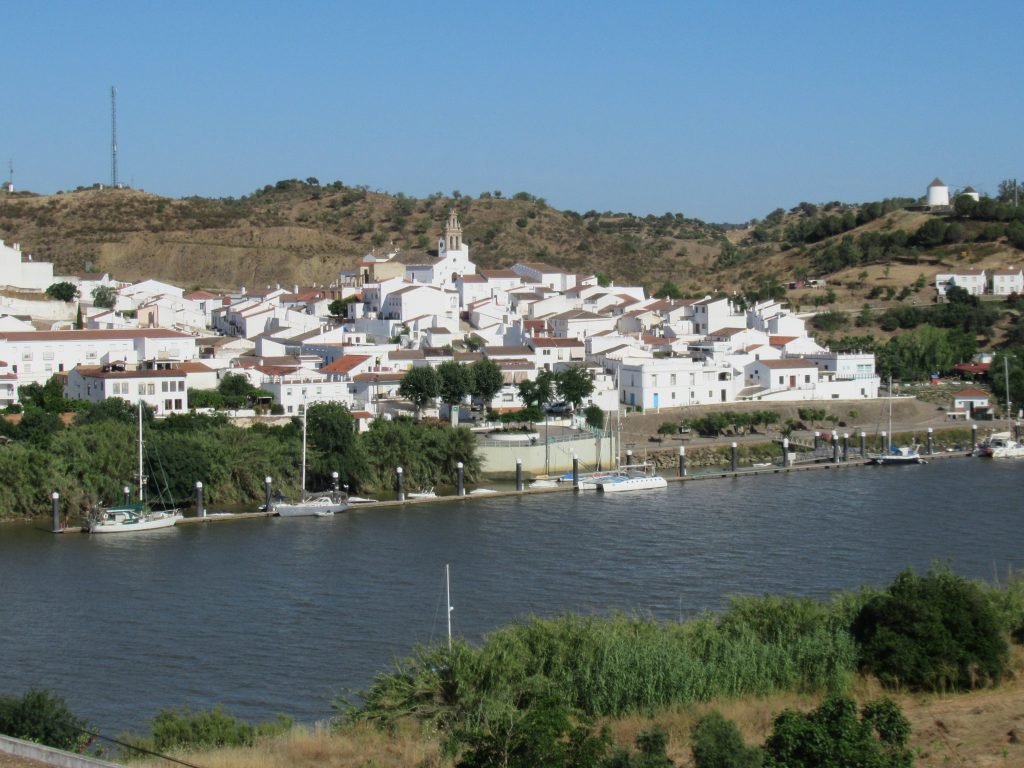 Summer 2021
So, this summer season is going to be one of flexibility. Covid vaccinations, travel restrictions, and unexpected boat jobs could all throw a metaphorical spanner in the works. However, if all goes well, we'll be floating again sometime in September. Who knows, we might even squeeze in a sail down to Gibraltar and back. But I won't be putting money on it because I've most definitely learned that plans might as well be written in sand at low tide.
The Social Media Bit: Want to Follow Us?
If you'd like to follow us on other social media platforms (Facebook, Instagram and YouTube), you can do so by using these links:
Or use the link below to track our voyage on NoForeignLand.com.

And finally, you can sign up to receive email notifications of new blogs using the subscribe box at the bottom of this page.
Thank you from Nichola & Colin